After realising that fear was motivating her, Kate Hill is rethinking her approach to the festive season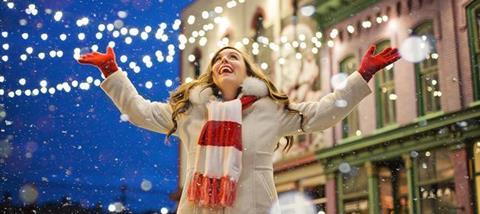 Stepping into my loft is like walking into Santa's Grotto. There are mounds of wrapping paper and decorations as well as boxes piled up to the top full of gifts of clothes, toys, books, jewellery, toiletries and so much more. Each box is labelled with the name of who the gifts are for or the occasion. All that I'm missing are several elves running a production line. In my daughter's case each box is labelled with the age that she will receive those gifts and at 2 years old, she's covered until she's 4.
I should explain that I have Obsessive Compulsive Disorder (OCD) and my condition manifests itself in some very strange ways. One of these ways is by hoarding gifts.
I've become exceptionally good over the years at picking up items at a fraction of the RRP and sticking to budgets by spreading the cost throughout the year. I don't spend much and have a lot to show for it.
As a result my loft is a source of accomplishment for me but also an enormous cause for concern. The Bible tells us in 2 Corinthians 9:7 that "Each of you must give as you have made up your mind, not reluctantly or under compulsion, for God loves a cheerful giver". I do love buying gifts for other people and I enjoy seeing a smile on their faces but it's important that I acknowledge that much of the time I'm buying out of fear.
Our current economic climate is of course not looking pretty and yet the pressure that we receive from society as a whole through the media, our peers and the high street is that we must have the "perfect Christmas". Perfect entails endless treats, a lavish meal and a pile of gifts that would put good old Saint Nic to shame.
This Christmas Mountain as I'd like to think of it will take at least the whole morning to open, if not most of the day and by the time we're done opening and exchanging gifts there is no time left to focus on the things that really matter. There is no judgement on my part if this is where you've found yourself because it's exactly where I am myself.
I have become afraid of being unable to provide my daughter with the perfect Christmas that every voice around me seems to be saying that she must have. As a child I remember having economic awareness instilled in me by my brilliantly savvy parents. They would hand me an Argos catalogue and tell me to "circle the things that you would like but nothing too expensive". There wasn't a lot of money coming in so I circled my items and I was delighted with whatever I received.
We aim to raise our daughter in this same way and yet families sharing their Christmas Mountain on Facebook seem to be telling me that endless presents will make my daughter happy and that somehow I'm failing as a mother if that's not what she receives. Hence I own Santa's Grotto. Nothing in my grotto cost a fortune and yet everything combined has the capacity to detract from Jesus.
The wisemen brought their gifts of gold, frankincense and myrrh but I can't help but wonder what they would have brought had Jesus been born into our modern world? A year's supply of nappies? An iPhone? A solid gold cot that plays Brahms' Lullaby? Would the wise men have felt this same sense of pressure to give into consumerism? The gifts we give tend to range from the practical, to the entertaining, to outright frivolous and it's putting more people into financial crisis every year.
The newspapers tell us that the average family will spend over £800 on Christmas and research from the Money Advice Trust's National Debtline states that nearly a quarter of British households feel pressure to spend more than they can afford. Romans 13:8 tells us "Let no debt remain outstanding, except the continuing debt to love one another, for whoever loves others has fulfilled the law." Be encouraged then that this financial burden and this overwhelming sense of pressure to keep up with The Jones' is the opposite of what God wants for you. He only wants us to "…love one another as I have loved you." (John 15:12)
My husband recently challenged me: "Well, if this is what you've realised then what are you going to do about it?" It was a fair question but one that made me very uncomfortable. From past experience that's usually a fairly frustrating sign that I have to do something. So despite it seeming like everything around me is telling me not to, I'll be voyaging into the grotto in an attempt to downsize and more importantly in an attempt to let go of this sense of pressure. The perfect Christmas has already happened and I for one will be trying my best to focus on the ultimate gift that Isaiah 9:6 tells me I have already been given and to teach my daughter to do the same:
For a child has been born for us,
a son given to us;
authority rests upon his shoulders;
and he is named
Wonderful Counselor, Mighty God,
Everlasting Father, Prince of Peace
Kate Hill is an event organiser and freelance writer from Mansfield with a passion for music and women's ministry