In the week that MPs said white working class pupils have been failed by decades of neglect in England's education system, Carleton Raisbeck, 29, shares his story: from drugs, eating disorders and hopelessness to a new life in Christ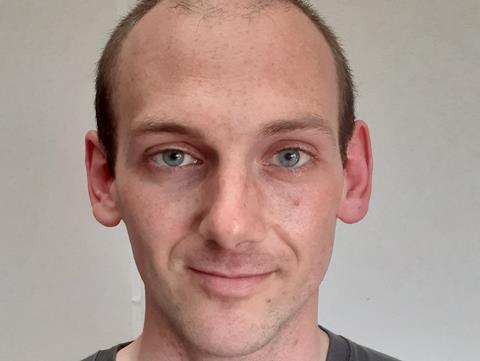 I was raised in a single-parent household, and although I wouldn't describe our family as poor, I was on free school meals.
At school, I was told I had potential but I failed to make much of it. Things were difficult in my home life and I fell into doing drugs.
During sixth form I bought cannabis with the £30 Education Maintenance Allowance I was allotted each week. After sixth form, I took a year off, which I spent largely being unemployed, doing drugs and playing video games.
I managed to get into university to study popular music, but I soon dropped out. I did not possess the work ethic, or the talent, to succeed as the electric guitarist I wanted to be. During this time, I had some terrible episodes of cannabis-induced paranoia and a very deep sense that I didn't belong.
Coming from a low-income household, I was eligible for a £9,000 maintenance loan, and because I didn't cancel it with the student loan company when I dropped out of uni, I still had the money coming into my bank account. I spent it on my cannabis habit and bought a redonkulous amount of Domino's Pizza. The idea of the future didn't cross my mind. Nothing had any meaning.
After years of teenage depravity and thoughts of hopelessness and suicide, I had often been searching for truth alongside getting high. I would watch kooky films and anti-capitalist documentaries; I went through stages of trying to follow various spiritual people and practices - Alan Watts, Buddhism, meditation, Carl Jung - as well as different diet regimes and attempts to change my thinking with cognitive behavioural therapy. Christianity made an entrance into my life when I read CS Lewis' Mere Christianity, and after much thought, craziness, and a 30-day water fast, I decided I would attend a church.
The first vicar I met prayed with me, and I stopped smoking cannabis soon afterwards. Another church leader prayed with me and my bulimia was cured. But the real turning point came in spring 2014 when I walked into a medium sized CofE church in my home town and met a curate in his late 20s. This curate took a real interest in me and shared his faith with me - a faith which I eventually came to have, by God's mercy, as my own. I became friends with his family and was blessed with their hospitality.
Nevertheless, being a white, working class man in his mid-twenties, left behind in a seaside town, whose middle-class friends went to university and whose working class friends drank, did drugs, or had other problems, I was in a lonely position.
I had a passion for learning and education, which I pursued with some zeal, and I am very pleased to have read some of the finest books in the canon, Dostoyevski's The Brothers Karamazov being a favourite. But I still wasn't really sure what work I was going to do.
I'd been thinking about going back to university and ended up studying three modules with The Open University in the arts and humanities. But it was only part-time and life was ticking on. Besides, I had no idea what I would do with an arts and humanities degree, and as I saw the woke culture grow, I realised that I wouldn't fit in or agree with the institutions to which this qualification might have gained me admittance. To my suprise, and with the aid of writers like the philosopher Roger Scruton and journalist Peter Hitchens, I discovered that I was actually a conservative.
I worked where I could - in restaurants, kitchens, bars, as a teaching assistant in a special needs school, as a bin man, an office worker, a factory worker, as a care worker in a care home, and numerous others. I did these jobs as best I could. But I was finding no pathway through life and little satisfaction. I couldn't stick with them and dropped out.
Rather than being a drugged-up left-behind young man, I had made myself into an over-educated working-class loser. For all the books, lectures and sermons I consumed, I didn't feel much further along in life. The clergyman moved away, as did every person my age attending my church with whom I had a slight friendship. The way forward was starting to cloud up again.
Books were a comfort, as was Jordan Peterson. After reading Christian and secular books on what a man should be and do, I decided that I would work as a labourer on a construction site. It was physical, if nothing else. I met a plumber and he agreed to let me work for £150 a week, which didn't add up to much. But, after time, it got better. I got a new job and have now nearly finished my NVQ2 in Plumbing.
I recently moved out of my home town and got a job closer to a city where the prospects are better. My relationship with my family has improved. They've helped me a lot, and now I have my own van and a mortgage.
For me, it was the relationships with people that have made all the difference to my life. The clergyman who shared Jesus Christ with me gave me hope for my life. That hope carried me through many jobs until I arrived at one that seemed largely untouched by woke gobbledegook and stifling bureaucracy - things which I now realise have irked me since my school days.
I was, and still am, a working class white man. But even though I grew up in a low-income household, I wouldn't say I've ever been especially poor. I wasn't really short of material wealth. The poverty in my life was one of deep hopelessness of life and despair for the future; a poverty of relationships and community; a poverty of spirit and a poverty of vision.
The clergyman I knew came down to my level to lift me up; he was a doctor and was educated at both Oxford and Cambridge universities. The plumber was patient and kind to teach me all he has done, like a second father and a brother. My divorced parents and their spouses/partners have been supportive. However, I believe the prime example of help remains Jesus Christ, who himself became a curse so that we might be clean.
That's why I think the answer to white working-class boys being left behind is Jesus.